HAIR EXTENSIONS
A Commitment to Quality and Transparency
Ethically Sourced Virgin Hair Extensions
In an industry often plagued by ethical concerns and questionable sourcing practices, our salon takes a stand by providing ethically sourced virgin hair extensions. We firmly believe that trade should be fair and beneficial to all involved, allowing developing communities to earn a decent livelihood. With a meticulous selection process and a commitment to transparency, we ensure that our customers receive the highest quality virgin Remy hair extensions.
At our salon, we personally source our virgin hair extensions, by travelling to rural communities in Asia, going above and beyond to ensure ethical practices. We purchase the hair at fair trade prices or even above market value, supporting rural communities who willingly sell their hair. By handpicking our hair, we can guarantee its origin, which can be Indian, Chinese, Indonesian, Burmese or Cambodian hair. This allows us to pay more for our hair compared to factory-sourced alternatives, ensuring superior quality.
The process of hand-selecting our hair allows us to assess important factors such as whether the hair is from a single donor or multiple donors, as well as the age of the donor. These factors play a vital role in grading and determining the quality of the hair. By understanding the unique characteristics of each bundle, we can provide our customers with the finest virgin Remy hair available.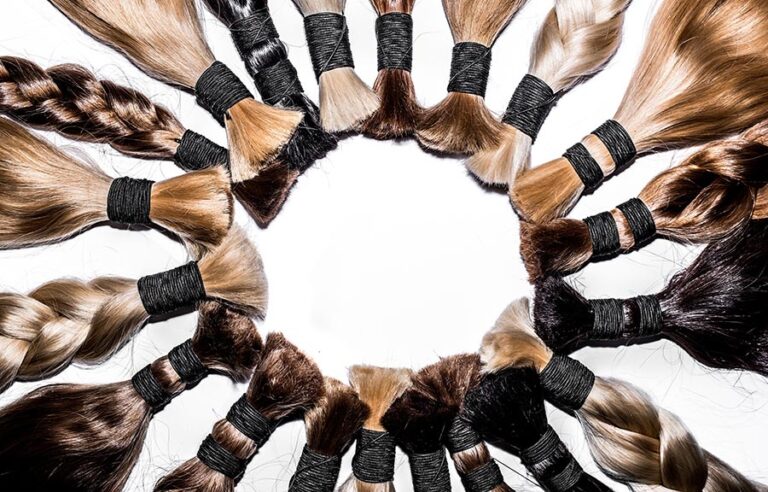 Manufacturing and Color Customization
Once we have obtained the raw hair, we collaborate with local small-scale hair manufacturing businesses to process it into wefts and ponytails. Unlike mass-produced hair extensions, we customize the color in our salon. This approach not only ensures a seamless match to your natural hair but also helps to preserve the hair's integrity and longevity. Large hair factories often use harsh chemicals to manipulate the hair color, which compromises its quality and durability. By avoiding such practices, our extensions can last up to two years with proper care, surpassing the typical lifespan of 6-12 months.  We offer handtied, genius and machine wefts, tape hair extensions and ponytails and customized clip-ins. Our hair extensions specialists are also educated and certified in various weft installation methods, including the Invisible Beaded Extension method, the original flipup and healthiest installation on the market Link: https://www.invisiblebeadextensions.com/. 
At our salon, our ethos revolves around honesty and transparency. In an industry often characterized by marketing gimmicks and false promises, we stand firm in our commitment to offering genuine quality. We do not rely on marketing tricks to sell our hair; instead, we guarantee the value and quality of our products. Our customers can trust that what we offer is what they will receive, without compromising on integrity.
When it comes to hair extensions, our salon takes a principled approach, going beyond market norms to deliver ethically sourced and top-quality virgin hair extensions. With our meticulous sourcing, transparent practices, and customization capabilities, we aim to provide our customers with extensions that not only enhance their beauty but also align with their values. Join us in embracing a salon experience that combines exceptional hair extensions with ethical integrity.
We offer in salon and video consultations, click on the booking tab below to secure your complimentary consultation today.